Up on a hill in Wales in a little chapel, a small stained-glass window brought home a truth to me: God sees me.
Coming at a time when I was thinking through some of the changes that had come my way, I felt a little sore in heart and a bit befuddled in mind. I didn't know what I needed nor have good words for what I wanted as I entered the tiny space.
A kaleidoscope of color greeted me: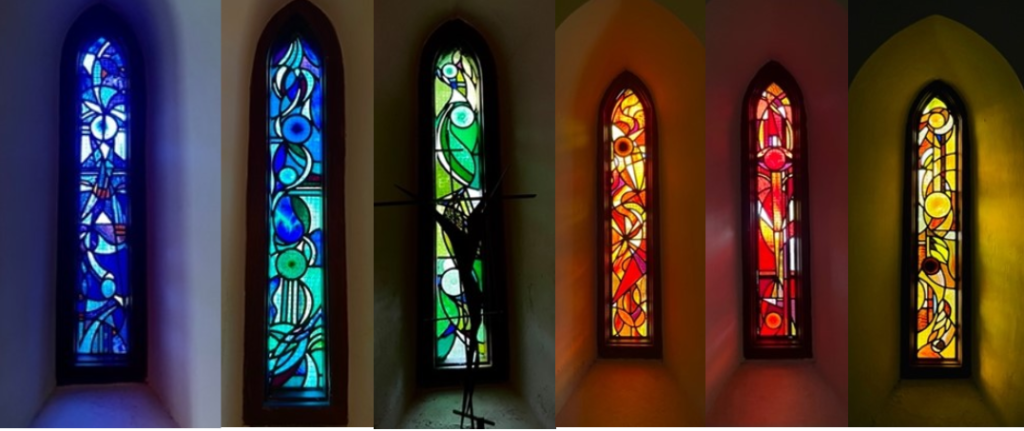 Honing in on the yellow window, an image leapt out at me. I wonder what you see?
I saw a woman and an eye – both in profile. (The blue is the pupil of the eye)
She is canted, moving toward the eye. Her face takes up three fourths of the pupil. His eye is on her. She fills his gaze.
Looking closer it's as if the ball underneath her is God's arm drawing her, pushing her, guiding her to his gaze until she is right up close with it. No space in between –just the truth of being solidly in the loving gaze of God.
The woman in the window is me. I have his full attention.
What is it like to be looked at by God? To just let ourselves be seen?  
Maybe just sit with that for a minute. What happens inside you?
——————————————————–
"Ok. Ok," She said through tears. The wonder of being seen sinking into her being where all the discordant, contradictions, wounds and self-centeredness lies. They didn't matter anymore. They weren't the full story. Jesus already knew what he would do with all that. She needn't worry. He loves what he sees.
If his eye is on the sparrow, if he knows when each tear falls and collects it in a bottle, if the hairs on our head are numbered, if he knows what I need before I even realize it…
Can that be enough for now?
His eye is on me. I have his full attention.
So, I won't worry about whether I did it right or wrong. I'll just do what is in me as humbly as I can, listening, tending to and offering what I have.

–One woman's journal