Ministry Essentials Products
Gather for a Simple Meal - $20
Something wonderfully life-giving happens when people share a meal. Even when people don't know each other very well, the conversation often unfolds in ways that allow them to know each other better…deeper. And when the meal is finished, they leave the table filled, not just in their bellies but also in their hearts.  They have been welcomed, invited into another's space, and gifted with what they have to offer. It's generosity they didn't expect, but gladly receive. They leave warmed with a sense that maybe there's a place they belong.
In our busy days, it can be challenging to find time to invite people in…the obstacles are plenty.  But what if you have the meal all planned out for you – and what if it's kept really simple – soup and salad.  What if you don't even have to think of the questions to ask as you sit down to eat?  Would that make a difference?  Clear some of the obstacles? That's why we've created  "An Invitation to Hospitality," a series that will not just whet your appetite to invite people in, but give you what you need to do it.
We would love for you to experience the rich blessing of offering just what you have and seeing how God might deepen life around your table.
But it doesn't end there.  Your purchase of Gather for a Simple Meal–An Invitation to Hospitality Vol. 1 for a donation of $20 will cover the cost of a day retreat for one global worker at the Budapest Garden House – a place where weary workers experience time and space to rest and reconnect with both friends and God.
Advent Suppers & Reflections - $15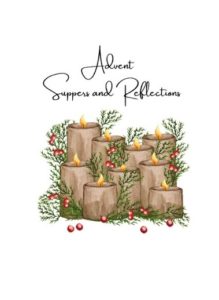 Advent. A time that marks both a look back and a look forward. A time to remember, reflect on and reaffirm God's place in our lives and our place in His. In the quietness of our hearts, we enter this sacred time. We share it in community as we gather to light each week's candle.
We want you to have this time with family and friends without having to worry about what to eat or what to read. Advent Suppers and Reflections—An Invitation to Hospitality Vol. 2 makes that possible. With simple yet tasty menus and a short advent reading all ready for you, entering the sacred time is possible…simply…communally…reverently.
But it doesn't end there. Your purchase of Advent Suppers and Reflections for a donation of $15 will cover the cost of a day retreat for one global worker at the Budapest Garden House — a place where weary workers experience the same hospitality you're sharing at your table. And because of that, weary workers leave refreshed, reconnected with the Lord and their community.
We're so grateful to have you be part of that.
Iconic Spaces of the Budapest Garden House - $20
The Budapest Garden House, located in Budapest, Hungary, is known as a place of rest, reconnection, and peace for global workers. Coming from all over the Eastern Block Countries, approximately 200 weary global workers come through its doors every year.
"I came thinking that I was the only one lonely, the only one needing community and some focused time with the Lord. I was so wrong. Many of us came in weary. All of us left refreshed…renewed."
(A global worker from Ukraine)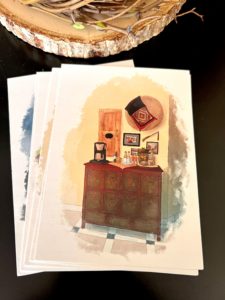 "Iconic Spaces of the Budapest Garden House" gives just a glimpse into the special places that have become dear to many global workers. It's in these spaces they sit, reflect, and reconnect to God and each other. It's in these places they come to peace.
When you purchase a set of these cards, you provide a one-day retreat for a weary global worker. They go out and show God to their world. Your investment goes far.
Thank you for partnering with us…for providing essential support for the whole global worker.
Warmly,
Jeanni Shepherd
Developing Director
P.S. And how fun is it that the artist is our very own Jillian Shepherd!