And God says, "Come up here. I want to show you something." And he begins to show us his world, to tell us his story that is so much bigger than us. And then he says, "I'm telling you this because I want you to know what I'm about. I want you to come with me sharing in my life, my love and my work."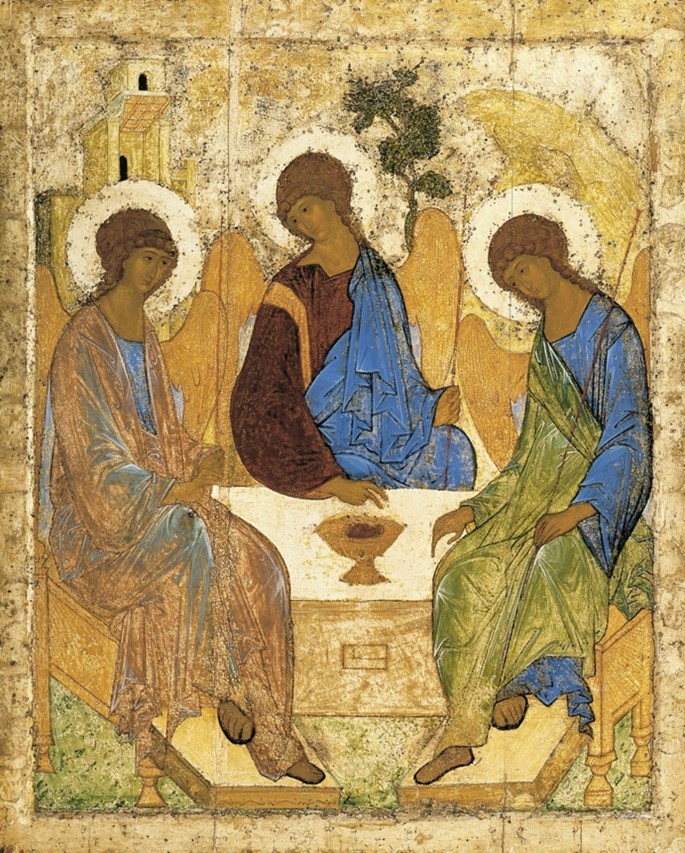 Did you know in the original painting of Rublev's icon (see above) the little, rectangular box in the front on the table was a mirror? He put it there so the viewer could picture themselves included at the Trinity's table. He wanted you to see yourself there. You, with everything that is true about you for the good and the bad. You are the invited.
It's hard to get our heads and hearts around all God is inviting us to. All his strength, his wisdom, his emotions, his views of the world, we are invited into all those realities. And there is more. What might it be like to sit at his table and listen to the Trinity talk? What might it be like to hear how they look at things, how they pace themselves, how they see us and see the world? That's the invitation on the table – to share in all that is inherent to the Trinity – their life, thoughts, plans, prayers, sufferings, movements, emotions, passions, aware-nesses, burdens, actions – the very heart of God unleashed for you and for the world.
If we were to accept that invitation, imagine what we would hear about his plan to give a future and a hope, to redeem the unredeemable, to make sense out of all the unthinkable that happens every single day…Until, one day, he comes back again and sets everything right.
Jesus invites us: "Will you come with me? Will you be with me not just in my work, but my very life? Will you keep company with me? That's how we will love each other.
"So, what about it? Will you join me at my table? Will you receive the pleasure I take in you? Will you be with me in not just my work, but my very life? Will you keep company with me?
"Will you continue to let me love you?"
Let Your God Love You

Be silent.
Be still.
Alone.
Empty
Before your God.
Say nothing.
Ask nothing.
Be silent.
Be still.
Let your God look upon you.
That is all.
God knows.
God understands.
God loves you
With an enormous love,
And only wants
To look upon you
With that love.
Quiet.
Still.
Be.

Let your God—
Love you.

–Edwina Gately