Bio – Brad & Joyce Trottman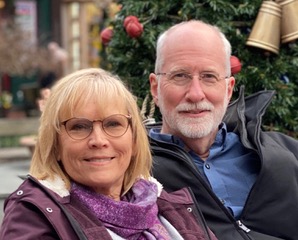 Brad & Joyce Trottman
Ministry Essentials Staff
Our Story:
We were married in 1984 and raised our boys in Southern California. We both got our MS degrees in Christian Counseling at Cairn University and by the early 2000s had gotten credentials as school psychologists at La Sierra University. Brad has worked in Special Education Administration and Joyce as a special education teacher.
We had been thinking for several years about taking our profession to the mission field, though the time didn't seem right until we were both moved by the Spirit ON THE SAME DAY to go at that time, rather than waiting until retirement. We headed to Chiang Mai, Thailand in January of 2015, and then, in 2017, we moved to Budapest, Hungary where we lived for about five years with our MEI team. Then, in 2022,
God led us to relocate back to the States. We now live in Tennessee where we will continue to serve Third Culture Kids around the world.
Our Ministry:
We work with schools, agencies, and families mostly doing psycho-educational assessments, though we also do staff training and family coaching as well when needed. We have traveled to schools in Europe and Asia, and some families have traveled to Budapest for assessments. In 2020, we began to offer assessments online.
We also saw that many Third Culture Kids had limited awareness of the variety of careers a person may pursue and so we became certified to give the Highlands Ability Battery so students may learn about their interests and aptitudes as well as how they may be trained in a field, etc.
We love supporting global workers, coming alongside schools, families, and children.  Our aim is to help students know their strengths and how challenges like dyslexia, autism, and ADHD can present opportunities to know and glorify God.